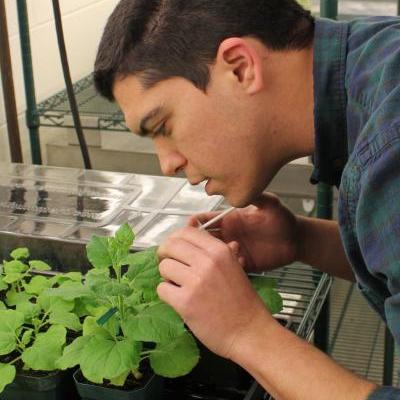 Contact
nmorffy@uga.edu
Office:
Davison Life Sciences C418
Education:
2011 - BS in Biology from the University of Florida
Selected Publications:
Morffy N, Faure L & Nelson D (2016) Smoke and hormone mirrors: action and evolution of karrikin and strigolactone signaling. Trends in Genetics 32, 176–188.
Stanga JP, Morffy N & Nelson DC (2016) Functional redundancy in the control of seedling growth by the karrikin signaling pathway. Planta 243, 1397–406.
Soundappan I, Bennett T, Morffy N, Liang Y, Stanga JP, Abbas A, Leyser O & Nelson DC (2015) SMAX1-LIKE/D53 Family Members Enable Distinct MAX2-Dependent Responses to Strigolactones and Karrikins in Arabidopsis. Plant Cell 27, 3143–59.
Awards and Funding:
2016 - IPGSA Poster Award
2016 - Mote Graduate Support Fund
2015 - NIH T32 Training Grant
2015 - Honorable Mention NSF Graduate Research Fellowship
2015 - Honorable Mention National Academies Ford Fellowship Program
2014 - University of Georgia Graduate Research Opportunity Fellowship