The Genetics Training Program (GTP) is an inter-departmental training program that includes faculty and their students from across UGA who focus on genetics research. The GTP is supported by an NIH T32 Genetics Training Grant. The GTP brings together the genetics community at UGA, and the NIH T32 training grant provides students from across campus with training in genetics and opportunities for career development. The NIH T32 funds also support the Genetics seminar series, which brings outstanding scientists to campus to present their research and interact with faculty and student researchers in our community.
The Genetics Training Program is committed to creating a supportive, inclusive, and diverse training environment where all members of our community feel welcome and well supported. The GTP follows the same Diversity Statement as the UGA Genetics Department. 
The GTP is Directed by Dr. Kelly Dyer (Genetics), Dr. Mary Goll (Genetics), and Dr. Diana Downs (Microbiology). Administrative support is provided by Ms. Susan White (Genetics). 
Student Traineeships:
The NIH T32 Genetics Training Grant currently funds stipends for eight Ph.D. students, and the university funds stipends for four additional Ph.D. students. In addition, each trainee receives $700 to use for travel and supplies.
Ph.D. students in a trainer's lab from any graduate program and whose research includes a substantial genetics component are encouraged to apply for a traineeship. Applications for an NIH T32 traineeship are due in the Spring of each year. The deadline for 2023 is March 15th. The application requires that the student write a one-page statement of interest and submit this with their CV to Susan White by the deadline. The application instructions and an example CV are here. Traineeships are awarded for one year, and may may be renewed for a second year. Please contact Susan White with questions concerning the application process. Trainees are selected by the Genetics Training Grant Committee.
Applicant prerequisites:
Student must be a US citizen or permanent resident of the US.
Student must be in good standing at the University of Georgia, i.e., not on academic probation.
Student must be on track with respect to deadlines, especially committee meetings and timing of written and oral exams (Departmental Graduate Affairs Committees may extend deadlines upon student petition).
Student must be currently enrolled as a PhD graduate student, performing genetics research in a trainer's lab. See the list of faculty trainers here.
Student must currently be in years 1–3 of their PhD program. All NIH-funded traineeships are awarded to students who apply during years 1-2, and in exceptional cases a student in year 3 may be awarded a traineeship funded by a UGA matching slot.  
Student must be willing to commit to all the training requirements of the training program.
Student's advisor must commit to taking mentor training if they have not already done so.
Training requirements:
The GTP curriculum helps trainees gain both broad and specialized genetics knowledge and quantitative skills within a generally flexible framework. The coursework reflects the graduate curriculum adopted by the Genetics Department, and includes core courses and approved electives. The GTP curriculum is intended to interface and synergize with other department curricula to enhance training in genetics.
Students supported by the training grant are required to:
1. Complete the required coursework, including:
    • GENE 8100, Foundations of Genetic Analysis (4 credits)
    • Six credit hours of genetics electives, chosen from this list of courses.
    • Three credit hours of quantitative training, chosen from this list of courses.
    • GENE 8620, Rigor and Reproducibility in Genetics Research (1 credit)
    • GENE 8880, Research Communication (1 credit), taken all semesters while supported by the training grant
2. Attend the weekly Genetics Seminar Series (GENE 8060, Wednesdays at 4 pm).
3. Attend breakfasts with the Genetics Seminar Series speakers (~8-10/year, usually 8-9:15 am on Wednesdays).
4. Participate in GTP-related community events (1-3/year).
5. Complete an Annual Progress Report.
6. Maintain an Individual Development Plan.
The current NIH trainees for the 2022-2023 year are:
Click here for a list of T32 trainees from previous years.
Training Program Alumni:
Genetics training at the University of Georgia has been supported by an NIH training grant since 1975, and our training program has produced generations of geneticists who are now leaders in the biomedical workforce. We encourage students to explore career options, and we aim to help students gain the skills and networking opportunities needed to access their chosen positions. Nearly all of our graduates remain in the biomedical workforce and are in diverse careers in academia, government, and industry.
Job placement of the 57 T32 Trainees who graduated in the last 15 years:

See where our trainee alumni are here.
The Genetics Training Grant Committee currently consists of:
Faculty Trainers:
There are currently 50 faculty trainers in the Genetics Training Program. Faculty trainers have a strong commitment to student success, and are committed to maintaining a safe, inclusive, and supportive training environment.  See the list of faculty trainers here.
Trainers span the diversity of genetics:
The field of genetics at UGA includes medical and developmental genetics, molecular genetics, genomics, and quantitative and population genetics, and involves research at scales ranging from single genes, to gene networks, and to genomes. The GTP provides students with access to diverse trainers who are leaders in research across the spectrum of modern genetic approaches and models.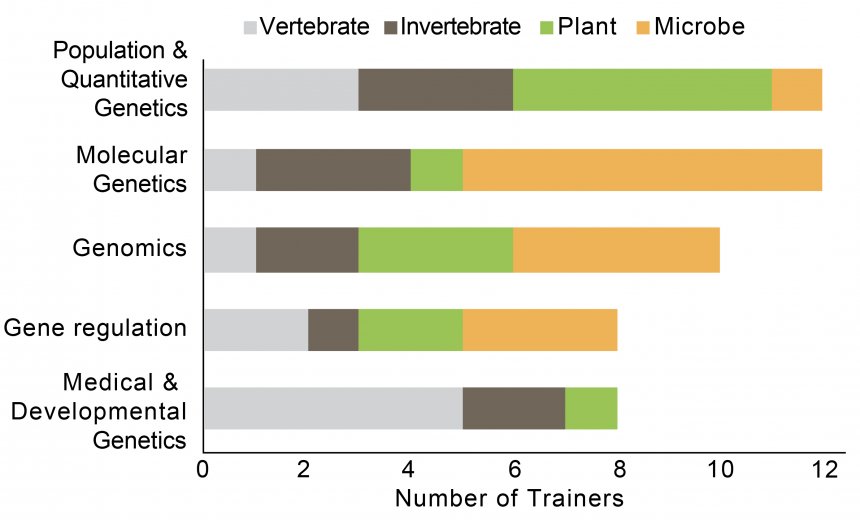 Trainers and their students interact and collaborate:
Faculty trainers and members of their research groups interact and collaborate with each other. More than 80% of trainers who have been at UGA at least three years have co-authored a publication with another trainer. Most GTP trainer's laboratories participate in field-specific inter-departmental research communities at UGA, and almost half participate in more than one community. The six major campus communities that GTP trainers and their laboratories participate in include the Center for Tropical & Emerging Global Diseases, Developmental Biology Alliance, Enthusiasts of Diversity, Genetics, and Evolution (EDGE), Epigenetics & Chromatin, Fungal Group, Plant Functional Genomics, and Prokaryotic Genetics.
Who to Contact:
If you have questions about the Genetics Training Program or are interested in becoming a faculty trainer, please contact Dr. Kelly Dyer.
The University of Georgia, and its many units, are committed to increasing the diversity of its faculty and students, and sustaining a work and learning environment that is inclusive. Women, minorities and people with disabilities are encouraged to apply. The University is an Equal Opportunity/Affirmative Action institution.